Post by Connie on May 13, 2009 10:48:50 GMT -8
Her name is Molly, a 5 month old Teddy Guinea Pig Baby that I purchased from Pets Mart. I tried to adopt from a guinea pig rescue ...but unfortunately the rescue place here in Washington would never get back to me about the piggie I wanted to adopt....and... the didn't have any female piggies to pair with my Lucy.
When I first discovered Molly, she was the only piggie the new Pets Mart had in the store. She didn't look very well so I asked about her health and discovered she had been sold to a family and then returned when they noticed she was sick with a respiratory condition, which had been treated, so they thought my concerns were unfounded. I didn't want a sick piggie and asked if they could have a vet check her out Again before I decided to take her. The specialist at the store said they would have her checked and then call me when they got some news about her health.
A couple days later I got a call saying the little guinea pig was healthy.......But.... I wasn't sure and asked if she could be taken to my vet, since I did notice a bit of dried blood on her ear when I first saw her. They agreed to do that for me, whew! It turned out Molly had Mites! My vet treated her with an injection of Ivomectin and said she would need another treatment in 10 days to get rid of the mites.... other than that, the little
was healthy.
Well, after a month wait and a clean bill of health with my insistence and "No Charge" on my part, I was able to bring Molly home to meet Lucy.
Lucy wasn't as excited as I thought she would be to get a new companion
she acted like she was upset
my guess is that Molly being a baby and Lucy being 3 yrs old, not to mention she still missed Sally meant it would take time for Lucy to get used to Molly.
Molly has been part of my pet family for about 3 weeks now but Lucy still hasn't adjusted to her young companion. When ever Molly trys to get close to Lucy, Lucy lets out a Loud Squeal until Molly moves to another part of the cage. To be honest, I'm puzzled by this reaction and don't have a clue what can be causing it
I could use some HELP!
So, if any of our members can help me figure this out I would be most grateful.... and so would Lucy.... and Molly
PHOTOS
Meet Molly ~ My 5 month old Teddy Guinea Pig ~ Teddy guinea pigs have short, wiry, dense coats, and both their hair and their whiskers are kinked. They are about the same size as American guinea pigs, and they have Roman noses. Teddies have resilient coats.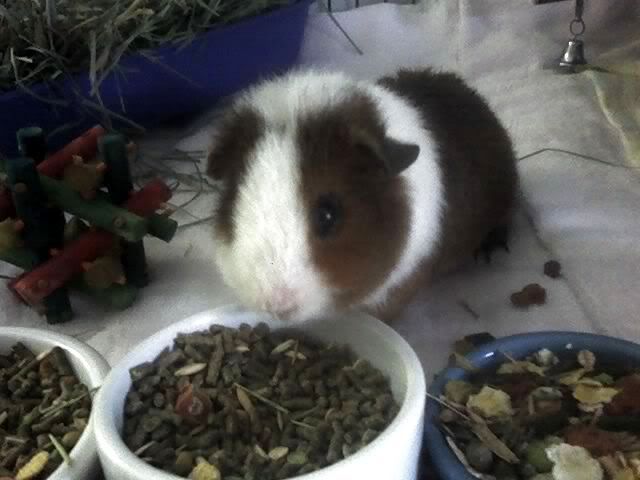 another pose of Molly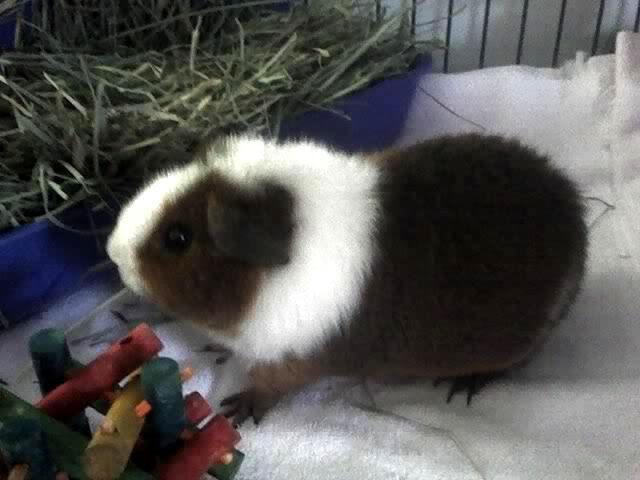 Molly with Lucy in the background munching on her hay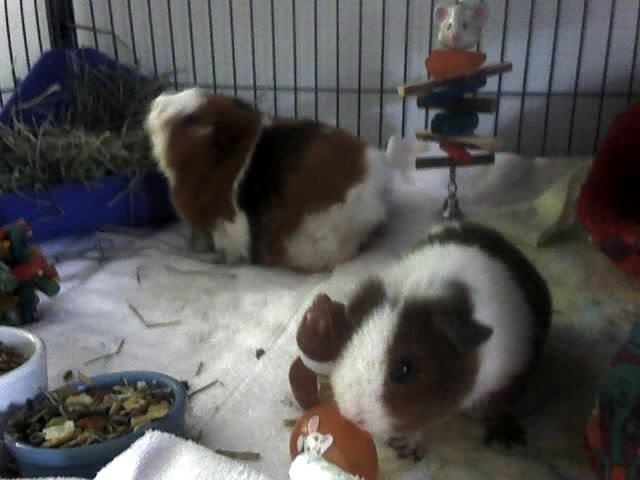 Close Up of Lucy as she munches on hay ~ my 3 year old (Abby) Abyssinian Satin Guinea Pig ~ The Abyssinian guinea pig has eight to ten rosettes and erect ridge patterns of fur on the body and the head. He or She also has a mustache of raised fur around his nose. Abyssinians come in a variety of colors and color combinations. Satins have a soft sheen to their fur.
here's another pose of Lucy with Molly just behind her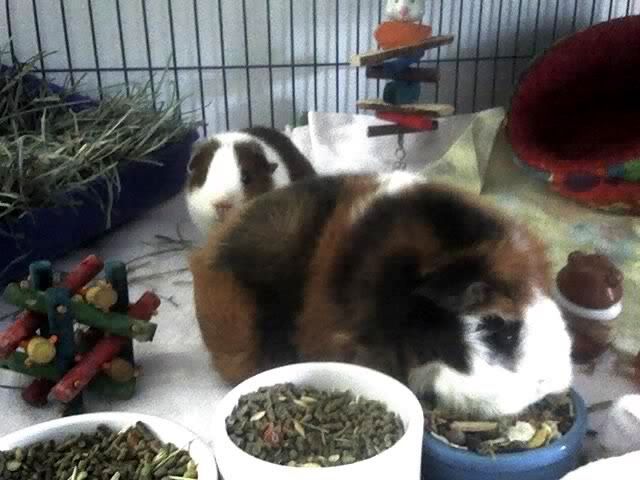 Lucy is So Bummed by Molly she tries to keep her distance as much as possible